Home | Everything Reiki Blog | Everything Reiki on Facebook
Reiki Books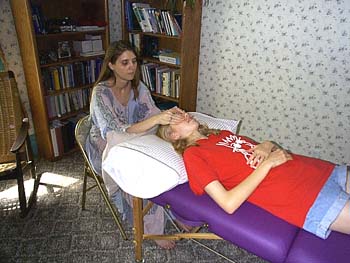 The Everything Reiki Book - Published February 10, 2004
The Everything Guide to Reiki (revised edition of The Everything Reiki Book) - Published January 15, 2012 (scroll down for customer reviews and chapter index)
Reiki Articles
~ What Is Reiki?
~ Learn the Basics of Reiki
~ What is Reiki? And, How is it Pronounced?
~ Reiki Hand Placements for Treating Others
~ Basic Reiki Hand Placements for Self Treatment
~ How to Give Your Partner a Reiki Massage
~ How To Prepare for Your Reiki Attunement
~ Reiki for Babies and Toddlers
~ Hawayo Takata Usui Reiki Lineage
~ What is a Reiki Share?
~ Reiki Tools and Supplies
~ 7 Tips for Starting a Reiki Practice
~ Reiki Attunement Stories
~ Reiki and Your Sex Life
~ Quantum-Touch Therapy v. Reiki Healing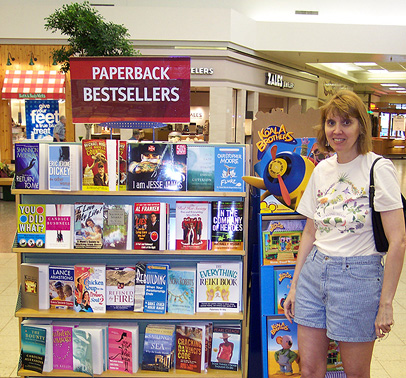 2004 - I got my 15 minutes of fame when my book, The Everything Reiki Book, hit the bestsellers list at the local B.Dalton's bookstore. My dear husband escorted me to the bookstore and took my photo alongside the bookshelf to capture the moment. What fun!
---
The Everything Reiki Book
Channel Your Positive Energy to Reduce Stress, Promote Healing, and Enhance Your Quality of Life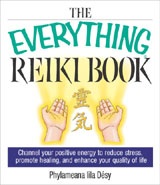 About the Author Phylameana lila Désy (Burlington, IA) is a Reiki Master/Teacher who operates her own home-based healing practice. She is certified in Usui Shiki Ryoho Reiki and the Science of Intuition from the Holos Institutes of Health. She also runs the popular holistic healing Web site at About.com.
Book Description
For centuries, Reiki has been valued by Eastern cultures as a means for relieving pain and balancing the body's natural energies. This hands-on healing method is now gaining subscribers in the Western world who seek a mind-body approach to overall wellness.

The Everything Reiki Book introduces readers to basic Reiki techniques and teaches them how they can channel positive energy to reduce stress, enhance vitality, and strengthen the immune system. Packed with easy-to-follow instruction and helpful illustrations, The Everything® Reiki Book is the perfect resource for readers interested in using this effective touch therapy in the comfort of their own homes.

Reiki Master Phylameana lila Désy shows readers how to:
Identify and tap into "life energy"
Make use of Reiki principles for treating themselves and others
Channel positive energy through proper hand placement
Use Reiki to alleviate specific ailments, such as indigestion, foot pain, back pain, and depression
Integrate Reiki into all aspects of daily life
Written with the beginner in mind, The Everything® Reiki Book is a practical approach to all-around wellness for the body, mind, and soul.
Customer Reviews
An excellent comprehensive introduction to the universal energy healing art of Reiki.Whenever I am passionate about a subject I try to read every article and book I could find on the subject. As a Reiki master I recently purchased this huge 305 page soft cover book (The Everything Reiki Book by Phylamea Na Lila Desy) for a bargain price on Amazon. This well-written book provides a lot of basic information about Reiki (universal energy healing) but does not reveal any tradition secrets. For example: It explains the Reiki main symbols one is taught in level 11 and level 111 (Reiki master) courses, but does not actually show any of those essential Reiki symbols in this book. I do like the way this book is organized. Before you get into the meat of the book it explains the top ten benefits of practicing Reiki. The twenty two chapters cover the following material: What is Reiki? Reiki sensations, who benefits from reiki? Reiki attunement process, pretreatment preparations, self-treatments, treating others, absentia treatments, Reiki shares, treating aches pains, Reiki and intuition, Reiki as a way of life, Reiki for fun, journal your Reiki experiences, levels of training, Reiki symbols and many other topics. One of the things I did like about this book is how it explained the various Reiki systems being taught and practiced today. If you are seeking a fairly comprehensive book about Reiki you may want to check out this volume.
Joseph J. Truncale (Author: Chair/Seated Tai Chi, Qigong, and Yoga for seniors and the physically challenged)
Your book: Everything Reiki is required reading for my students. It's a wonderful book.I looked for years for a book to replace Essential Reiki because of some sensitive issues in that book, etc. I own a store, and I reviewed every Reiki book that was printed and--Finally you wrote a book and I was thrilled. All my student love your book. Thank you so much.
R.A. Van Landingham
I was recently attuned to Reiki II and treated myself to The Everything Reiki Book. I have found it to be the most thorough reference on the subject that I have found to date. I'm delighted to have it in my Reiki library and look forward to sharing it with others.
J. Keefe
The Everything Reiki Book serves not only as a perfect introduction to Reiki for those who are new to the subject, but a comprehensive handbook for students and practitioners alike. The book is clear, simple and straight-forward, yet contains a depth of understanding and wisdom. It really does cover everything to do with Reiki - just reading through the table of contents reveals the complexity of topics which have become associated with what started out as a very simple teaching. Desy has managed to give a birds-eye view of the whole subject, as well as practical details and down-to-earth advice on every topic covered. She states that Reiki is all about balance, and she demonstrates this perfectly as she deals with various issues in the Reiki community, including controversial ones, with a balanced perspective. Desy makes it clear what is unique to Reiki as opposed to other energy healing systems. While her deep appreciation and enthusiasm for Reiki are clear, she acknowledges that being able to use universal life energy for healing is not exclusive to Reiki. She even includes a chapter on other energy-based modalities. One can substitute the term "energy healing" for "Reiki" in many places throughout this book and find that the same principles hold true. Thus the book is valuable for students of any energy healing modality.
M. Maddox
I love getting Reiki treatments, and wanted to study more about Reiki, maybe even become a Reiki healer myself eventually. This book was such a wonderful way to start my research, because it really does cover all the questions I could have about Reiki. It's easy to read, easy to understand, friendly, and I really like the writer's tone and her gentle style. I would recommend this to anyone who wants to learn more about Reiki, whether it's on the receiving or giving end of this wonderful healing energy and life force.
Suzzanna from Tampa
I have a veritable library of Reiki books and this one leaps over the mass of them. It's an incredible book. It answers just about every Reiki question that might come up in a practice, for beginners and well-established practitioners. Consider it sort the Physician's Desk Reference for Reiki people, answering such questions as standard rates to charge and the pros and cons of various types of attunements. But it also covers all the basics, from hand positions to explanations of the branches of Reiki. In short, it really is an "everything" book about Reiki. It really lives up to its name. But it also goes beyond that. It manages to explain Reiki in a way that people who aren't familiar with it can understand, as well as give experienced practitioners advice and "nuggets" of information they might not have found without quite a lot of research. If you have a loved one or friend who wants to know "Just what is this Reiki stuff, anyway?" you can refer them to this book without a lot of esoteric language or nebulous ideas. Like I said, it's really incredible. A great piece of work. This one definitely goes in my list of suggested reading. With a star!
Jim Ewing
The authors' standard of excellence shines through in this book. She's infused it with the Reiki "love" energy she writes about. One can feel it by just picking up the book. I highly recommend this for not only the beginner, but also as a valuable reference for the more advanced student. I especially like the many view points presented. It makes Reiki accessible to everyone.
B.Voss
Chapter Index
Chapter 1:What Is Reiki?

Reiki Is Energy
Profound and Yet So Simple
The Power of Love Energy
Channeling the Ki
Experiencing Reiki
Honoring the Reiki Rite
ABCs of Reiki
Chapter 2: Reiki Sensations
What It Feels Like
Hot and Cold Hands
Extra Healing Hands
The Reiki Pulse
Facilitating the Flow
A Vessel That Never Empties
Perception Techniques
Chapter 3: Who Benefits from Reiki?
Reiki During Pregnancy
For Young Children
It's Good for Seniors
A Care Giving Practice
Reiki and Pets
Dealing with the Skeptics
Reiki Benefits Everyone
Chapter 4: Reiki Attunement
Choosing the Appropriate Reiki Master
Preparing for the Attunement
Reiki Initiation Ritual
Booster Attunements
Twenty-One Days of Purification
Who Wants to Feel Sick?
Chapter 5: Pretreatment Preparations

Reiki Principals
Cleansing the Body Temple
Dress Comfortably
Nourish Your Body
A Healing Space With Healing Intentions
Curbing Your Expectations
Centering and Grounding
Are You Ready?
Chapter 6: Self-Treatments

A Regular Reiki Routine
Preparing for a Full Body Session
Basic Hand Placements
Is It Working?
Reiki on the Fly
Tracking Your Progress
Are You Avoiding Self-Treatments?
Chapter 7: Treating Others

Newly Attuned Exuberance
Pretreatment Communication
Blending of Personal Energies
Hand Placements for Treating Others
Creating Boundaries
Reiki Treatments at Healthcare Facilities
Chapter 8: Absentia Treatments

The Power of Reiki Symbols
Working with the Symbols
The Absentia Healing Formula
Directing the Flow
Obtaining Consent
A More Mindful Approach
Absentia Treatment Positions
Sending Reiki to a Group
Chapter 9: Reiki Shares

Learning to Share
Publicly Sponsored Reiki Shares
Privately Hosted Reiki Shares
Hosting a Private Reiki Share
Reiki Share Etiquette
Shifting Energies
When the Share Is Over
More Sharing
Chapter 10: Treating Aches and Pains
Treating the PEMS Body
Bleeding, Bruises, Broken Bones, and Burns
Heartburn and Indigestion
Treating Hard-to-Reach Areas
Anxiety and Phobias
For Chronic Pain Sufferers
Surgical Procedures
Living with Terminal Illness
Chapter 11: Reiki and Intuition

Connecting with Your Guides
Paying Attention to the Signs
Emotional Centers of the Body
Trusting Your Feelings
Sharing Communication
Are You an Empath?
Transmuting Negative Energies
Channeling Spirits
A Spiritual Quest
Chapter 12: Reiki as a Way of Life

A Part of Your Every Day
On Rocky Relationships
Reiki Moon Rituals
The Reiki Environment
Planes, Trains, and Automobiles
Past, Present, and Future Events
Chapter 13: Reiki for Fun

In Your Reiki Sandbox
Better Than a Green Thumb
Diet and Nutrition
Let Reiki Be Your Shopping Guru
Mood Enhancement and Meditation
Reiki and Your Sex Life
Enjoying Life with Reiki
Chapter 14: Journal Your Reiki Experiences

Dedicating Your Journal
Ready, Set, Go!
The Post-Attunement Journal
Documenting Reiki Sessions
Recording Reiki Requests
Dreams and Manifestations
Reiki Affirmations
Your Recorded History
Chapter 15: Levels of Training

Getting Certified
Usui Reiki I
Usui Reiki II
Usui Reiki III
Usui Reiki Master Level
What It All Means
Chapter 16: Reiki Symbols

The Power of a Symbol
Shrouded in Secrecy
Secrecy of Reiki Symbols
Cho Ku Rei--the Power Symbol
Sei Hei Ki--the Harmony Symbol
Hon Sha Ze Sho Nen--the Connection Symbol
Dai Ko Myo--the Master Symbol
Raku--the Completion Symbol
Meditation and Reiki Symbols
Chapter 17: Past, Present, and Future

Usui Reiki Emerges in the West
Historical Truth or Aesop Fable?
The Tale of Rediscovery
The Reiki Creed
Researching Reiki's Japanese Roots
Usui Shiki Ryoho Timeline
Evolution of Reiki
Chapter 18: The Human Side of Reiki

Mikao Usui
Chujiro Hayashi
Hawayo Takata
Mrs. Takata's Twenty-Two Initiates
Reiki Historians
Modernday Reiki Pioneers
Reiki Lineages
Chapter 19: Reiki Systems

A Variety of Systems
The Original Systems
Trademarked Systems
More Variations
From a Common Source
Chapter 20: Reiki Controversies

Opposing Attitudes
Money Matters
The "True" Lineage Bearer
Attunement Concerns
Sending Absentia Reiki Energies
Sentiments over Symbols
Making up Your Mind
Chapter 21: What Reiki Is Not

Traditional Reiki Organizations
Traditional or Not
What Nontraditional Classes Have to Offer
Distinguishing Reiki from Other Modalities
Reiki and Other Healing Practices
Staying on the Reiki Path
Chapter 22: Other Touch or Energy-Based Therapies

Alexander Technique
Aura Clearing and Chakra Balancing
Bowen Therapy
Healing Touch
Huna Healing
Johrei Healing
Polarity Therapy
Pranic Healing
Shiatsu Massage
Therapeutic Touch
The Trager Approach
Quantum Touch
Appendix A: Frequently Asked Questions
Appendix B: Glossary of Terms
Appendix C: Additional Resources
---
Reiki Flash Cards
Basic Order of Stacking the Cards When Practicing Absentia Reiki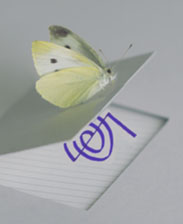 The instructions for stacking the Reiki flash cards described on page 102 of The Everything Reiki Book is missing one of the power card placements. Unfortunately, the error wasn't caught and corrected in the final proof-reading. For those of you who have a copy of the book if you coordinate the stacked flash cards with the six steps from the absentia formula as it is printed on page 100 you'll be okay.
The formula I teach in my Reiki II classes using the flash cards goes like this:
Card 1: Power Symbol
Card 2: Connection Symbol
Card 3: Intention Card (written intention and/or photo of person)
Card 4: Power Symbol
Card 5: Harmony Symbol
Card 6: Power Symbol
If you choose to send Reiki to a second person then you would add two more cards.
Card 7: Second Intention Card (written intention and/or photo of person)
Card 8: Power Card
Repeat with two additional cards (same as 7 and 8 ) each time you add in another person.
You can use the Power symbol freely, adding in as many extra cards as you like. You could even sandwich your intention card between two Power cards. Add an extra power symbols into the formula whenever you feel the situation could use an extra punch of power. In sending absentia energies remember to begin with a Power symbol card and end with a Power symbol card, sandwiching the other cards between them. Doing so insures you'll be sending a "whole healing transmission." One mistake new practitioners will make is sending the symbols off in fragments before they have completed drawing or visualizing them. This creates fragmented or scattered energies being sent off into the ethers. You want all the symbols to be whole before you send them. Better yet, send all the symbols together as a group, rather than individually, to assure the most impactful benefit to the recipient.
Everything Reiki domain is hosted by SpiralVisions.com